Sharing this very important information from GMA News. We need to spread this to reach the loved ones gripped with worry. To hell with our government leaders, the trapo politicians who are only dedicated during election campaigns. We people should know better.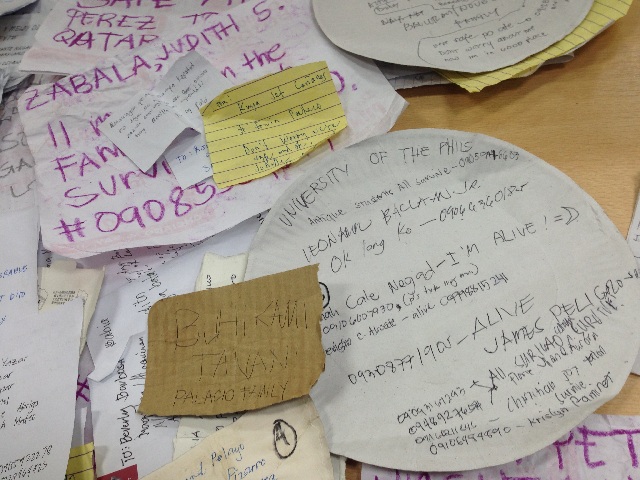 (Updated 8:33 p.m.)
Through messages scrawled on torn-up paper plates, written in pencil or crayon, and given to GMA's Jiggy Manicad, people in Leyte cut off from the rest of the Philippines by super typhoon Yolanda hope to let their loved ones in the country and abroad know that they are safe and sound.
Not all of the messages bring good news: some relayed the sad news of family members and friends killed by the storm.
The cellphone numbers of the recipients have been redacted.
1.
The From: Rudy & Meldy Diamante
Palo, Leyte
To: Aimee Diamante Regala
Baltimore, Maryland
To: Aidlem Rudolph Diamante
Sta. Rosa, Laguna
Our house and car were destroyed but WE ARE SAFE
2.
Jemima de Veyra
We're safe – Tatay & Nanay okay. - Nino
3.
Golo family of Matalom
09158881834
We're OK here at Sta. Cruz & Caibaan.
Popong
4.
To: Edna Montilla Reeves of Missouri, USA
Okey kaming lahat, wag kayo mag-alala!
From: Kristine Faith Batula Daga of Brgy San Fernando Palo
5.
To: Erwin Gomez
Uncle, Okay kami ngadi waray balay. We need help!
Carrie Velasco
To: Mabel Sarabia
Auntie, we need help! Please! We are okay but the house is destroyed
Velasco Family & Gomez Family
6.
To: family of Adelina Sermona diyan sa Manila...ok lang kami sa Leyte
To: family of Richie Perote diyan sa Manila ok lang kami dito sa Leyte
Neil John Binondo
Safe kami D2
7.
To: Joy Mae Ann Mendoza
Ok la kami ay la kabaraka. it problema la namon hi tamo amo it. Missing
From: Ebeth Mendaza
8.
To Keith Kleeman - Ohio, Cincinatti
Hi Keith
This is Stephanie, our house was destroyed by the typhoon
baby almost drowned byt thank God she is safe and we are all safe.
We need help from you. We don't have shelter we are in evacuation center this time.
Thanks & God Bless
Stephanie & Bert
Palo, Leyte
9.
Amor Sabado - Manila
Ludy Sevilla - Manila
Irene Martillo - H.K.
Janice Cruiz - H.K.
"Ligtas kami lahat dito, wag kayo mag-alala, kelangan lang namin tubig at pagkain."
10.
Sa lahat ng taga Sta. Fe ok lang po ang mga taga 20WE 3. Wala po na disgrasya
From: Marcus Jullius Pusa
11.
From: Kuya Jet Cañanes
To: Erwin Pacheco
Don't worry we're safe and ok.
Jobelle and AJ is ok.
12.
To: Elma Newsom/Anthony Daga
Okey kami lahat ng mga bata, buhay kami.
From: Kristine Faith Daga
13.
To Everose Maraya & Dyan Hermosilla
Message
Okey la kami ngadi pero usa ha amon an nagsarifisyo. waray na be kua Junior na aro kami hin buhig ha enyo. Kay waray na namon yana balay na gin uukyan. naasa kami nga bubuligan neo kami...
From Enriqueta Maraya
14.
Letty (Tacloban)
0943 5711386 (sun)
0936047354 (smart
Jelyn
0928 7811342 (manila)
Vita (Tacloban)
0923 943 0294 (sun)
Ever
0920 547 2851 (manila)
15.
Panawagan kay Arnel M. Ibo of Doha, Qatar from Shrima Fumar Ibo of Palo, Leyte okey kaming lahat dito kaya lang walang naisalbang gamit pati na yong bahay. Huwag kang mag-alala okey lang kami dito!
16.
Rosel Cailipan
Safe kami ni Lola, Tito Rodney, Tito Roy, at Tita Venus. Kumpleto pa. Paki sabi na ren kay tita Noemi.
17.
Harold Gandy
Southwestern University
We are all ok here in Palo... From your dad Ian Gandy... Pls... Com home
09265606258- harold
18.
Arthuro Mina
Sta. Maria Bulacan
We are all ok. from Ivy Mina in Palo.
09474554321- Arthuro Mina
19.
Marielle Ricote
Malate, Manila
Ok la kame! Ronald Solayo
Ine, hinay nala ikaw. Ayaw kabaraka haam.
09179561553
20.
Allan Almadro
Patay si Uncle Virgillo at Auntie Guada sa tidal wave, sara ang bahay. Ipapa mass burial sila.
From: Kristine
to: 09173282551
21.
Rebecca Armerola
Ok lang kami dito pero patay si Uncle Virgilio at Auntie Guada.
+96650931825
09281405278
22.
Helen Petilla,
Uncle Ely is safe and your Say family.
Contact # 09162394815
23.
University of the Philippines
Antique student all survive-09066360185
Leonard Bacla-an Jr.
Ok lang ko - 09066360185
24.
Naimah Cale Negad- I'm Alive! =D
09106007930 (pls text my mom
Benigno C. Abcede- alive 09998815241
25.
09308771905 -Alive
- James Peligroso Jr.
26.
09093167293
09489276574
- all Surigao Scholar Survive!
09166211545- Christian Joy Talon survive
09106484890- Krislyn Pamirez
27.
Kuya ali Trivia
Kuya Allan Almadro
Kuya,
Patay na si Mommy at Daddy. Pakisabi sa lahat. Walang signal dito at kuryente.
- Aaron Almadro
28.
Jun Militante
Bewe Militante
Ligtan naman!
09328557508
091777034661
29.
Panawagan kuya Richard, Ronald, Mary Anne, Edward, Irene Reandino:
Buhay kami lahat, wlaang bahay.
-Nanay Lea Palo
30.
To: Jethrog Velasco
Kuya, waray kami signal pero okay la kami ngadi. We need help!!!
-Carrie Velasco
To: Adlia Velasco
Uncle, waray nam signal didi. Waray na it balay, waray na atoy. We need help!
-Carrie Velasco
31.
Janice Cruz- 09182711072
Ok kami, ligtas kami dito wag ka mag-alalala.
-Janice Cruz
-Irene Martillo
32.
(09991527954)
Gliaza Juanillo
Bultan pa ako.
-Jona Juanillo
33.
To: Nanay Demi, Josph, Stepen & Ralph Polistico
Okay rako diri. Daghan kaayo patay. PArents ni Aaron patay na. Wala pako balita sa ato. Mouli ko dayun kung ok na ang kalsada.
-Daisy Polistico
34.
Nanawagan po ako sa mga kapatid ko diyan sa Manila Ate Omona nama saan inyo dyan importanti nang Cecilia po ng Palo
35.
Nora Soreta
09185970856
Twinkle Baduya
09277519183
Oki lang still alive pera walang bahay Tito Rudy Ta Ofel
36.
Ronna Cepeda
09062000878
Safe kami dito
To: Ronna Cepeda
Don't worry safe ang parents mo at relatives dito. 09062000787
37.
To: Beverly Barbosa
Maquilan/Maquiran
Ok lang kami dito huwag kayo pero si Nanay missing, pero ang tatay mo malaki ang sugat niya
from: Ebeth Mendaza
38.
Pinapanawagan po namin ang mga kamag-anak namin sa Pasig City na sina R.A. Andy , Gigi, Steve Sison, Ronnel na okay kaming lahat dito sa Leyte, Along atsaka Paloi nanawagan. Delin, Dada & Donald
39.
Reboy ayaw kaba raka Tim Family, imu Nanay ngan Tatay missing 3 la an nasalin ha eyu.
40.
I would like to inform my son Engineer Hermogenes Regis III na huwag mabahala sa amin iyong tatay, nanay at ate ay sa awa ng Diyos buhay at ligtas sa kahamakan
Tatay Hermogenes Regis I (Palo)
41.
To: Arlene Beuna
Ok la kami dito safe pero wala nang bahay kay nanay na lang.
Email odin.olaya@gmail.com
Ok sila te Sherry and kids
from: Sherry
42.
Nanawagan kami sa mga family namin sa Caibiran, Biliran
Gregorio T Canete Family
Dohinog Family
Ok lang kami sa Palo
43.
From: Pajares Family
Everyone ok. No houses
To: Amancio Pajares, Lea Pajares, Rayjie Javar, Roselle Tapion, Jr. Abejo
44.
Arthur Seares, Robert Seares (09213466285)
I am ok.
Popong
45.
Vicente L. Gador IV
Davio M. Nueva
Glory be to God!
We are alive & safe.
1. Milia Rosa Nueva
2. Jerry Seran & family
46.
From: Jocelyn V. Jorpan
Ok lang kami dito nila nanay. Problema sira yong bahay natin. Kung pwede kayo makauwi
To: Atty. Jemelo Villones
Atty. Rolando Villones
47.
Tita Jessica ayaw kabaraka buti kami pero and balay waray na kailang namon pag kaon pati mag Bodo Salamat
48.
To: Tylin Dalumpines
ok la kami nira
Mano Milan buhi kami tanan
From Grace Niotril
To: Lita Comique
Ok kami buhi
49.
Amancio Pajares - Dubai
Rayjie Javar - Qatar
Lea Pajares - Manila
Roslle Taipon - Chicago USA
J.R. Abejo - Manila
50.
Abellar Family
Palo, Leyte
OK
For Mart Abellar
51.
To: Pam and Mike Bidlock - Edmonton Canada
Darwin Mataro - Paraguay
Ma. Carolina and Edsel manuba - Drumheller Canada
Rainier Gaspang
Cristine Caballera - Calgary Canada
Rene Bocateja - India
Informing you that our entire family is in Tacl.
No need to worry about us. With God's grace
We are safe and sound here in Palo.
From:
Gaspang Family
Mataro Family
Sy Family
Caballera Family
Maceda Family
Militante Family
Bocateja Family
52.
To: Angelo Villamejor
Okay kami
anak safe
kami ni A.J.
Love, Amy F. Villamejor
53.
To: Carolyn Garcia Gatela
Australia
Leonides L. Gatela
Anselmo L. Gatela
Lily Gatela
Metro Manila
Sony Renomeron
Saudi Arabia
This is to let you know that we luckily survived Typhoon Yolanda.
Our house in Palo Villas was totally damaged.
We need your help. We thank God he saved us.
List of Survivors (Palo, Leyte)
Lilibeth G. Miralles
Edgar M. Miralles
Aileen Pearle M. Renomeron
Dwayne Kerby M. Renomeron
Azineth Beth M. Yu
Shirley Nicole M. Yu
Shaina Rhian M. Yu
Abbey Christer G. Miralles
54.
To: Genelyn Natividad Delgado
We're okey here!
From Natividad's Family
55.
To: Ramil Rueda
Ress Amacna
We're all okey.
Manhuyod Family
56.
TO: NOEL E. BATIANCELA at PROJ 7 PANA ST. QC,
Okay lang kami dito. Pero problema ang pagkain namin at tinutuluyan
FROM Noel, Claire, Lita Batiancela
57.
To: ENIE MUEVA GONZALES,
Don't worry we're all safe, except the wrecked house. Ging-Ging and Son was found dead. Please inform Mana, mano, Ed and Madayday.
FROM: MARILY MUEVA
58.
TO: ANICIA QUIMINALES, Washington DC, Maryland
Hindi ko alam kung nasaan si Syuti. Please help.
FROM: RACHE COBACHA QUININALES, PALO, LEYTE
59.
Nananawagan kami kay Nora Fabi, Corazon Fabi, and Wendyliza Fabi na nasa AbuDhabi
Sina Marcos Fabi, Leds Fabi, Wenly Fabi, jairus Fabi, Genis Fabi, Rubelyn Fabi, Sandra Fabi, Jay, Ram, at Ramil, Francis Mendiola ay nakaligtas sa Bagyong Yolanda dito sa Leyte. Ikunalulungkot namin ipaalam kay Mana Corazon Fabi na sina Vito 'Butsoy' Mendiola ay patay na, si BJ Mendiola ay missing pa hanggang ngayon, Marcelo Mendiola ay patay na rin. Salamat po.
60.
To: Kevin Culango and Rosalina Robliyado
Kuya and Anti okay na kami dito sa atin paki-inform na rin si Ate Eva na okay na sila ka Sarah pati sila Kuya Botsay at maari din mag-dala ka ng emergency lite. Wala pa ilaw ilaw dito sa amin. Ligtas na kami dai walang natira sa amin mas okay sa dulag, wag kayong mag-alala.
Ate Jane Estrellia / 0929799327
61.
Chavarra and Apolo family ok. Mame, Kuya Ian, Rai pa kmi kta.
62.
TO: TIBONG, JERICHO
Huwag po kayong mag-alala oki naman kami. Kailangan namin ang tulong ninyo. Pambili ng pagkain at tubig. Wala na tayong bahay, nawasak, wala na tayong matirahan pati mga (lahat) ng gamit nasira.
FROM: PAPA. GELACIO VINARTA (Maming salamat sa tulong ng GMA)
63.
SIS BERN JUAREZ, SISTERS OF MOUNT CARMEL
Tiya we're all fine. We only need food, clothing, and medicine assistance. Tnx
64.
TO: MARILYN JUAREZ, CONNIE BALBERIA, ERLINDA B. TABLADA
Dont worry we're all fine. Just need little food, clothing, water and medical assistance.
FROM: JON JUAREZ
65.
Gerundo E. Moreto Jr (Dubai, Saudi Arabia), Merjie Margallo (Dubai), Dino Moreto (Makati City)
Brad, okay lang mga buhi lahat kami buhay huwag ka ng mag-abala. Gamit at bahay lang ang nawala.
66.
TO: ANNA ABELLA, ANITA ABELLA, AMY ABELLA
Mama Ana [unreadable] kami ngayon. Ma, wag kang mabibigla, patay na si Tinay
67.
DIVINA ALABA, MELCHOR ALABA, JULIETO ABAY ABAY, MELLIZA ALABA Capinonan Cabanglang Bukidnon
Mama, Papa, Ok lang kami dito sa Palo Leyte. Si Boyet pinuntahan pa namin sa tanauan sira ang bahay. Sira ang bahay dito.
68.
Panawagan kay JOHN PAUL JUNTILLA sa NORWAY (Brother) at kay ANNABELLE KELLY (Mother) sa NEW ZEALAND.
Okay lang ako, Jo-Ann Juntilla pero wala akong contact kay JABAR JUNTILLA hanggang ngayon.
FROM: Jo-Ann Juntilla
— BM, GMA News
Photo by Mac Macapendeg